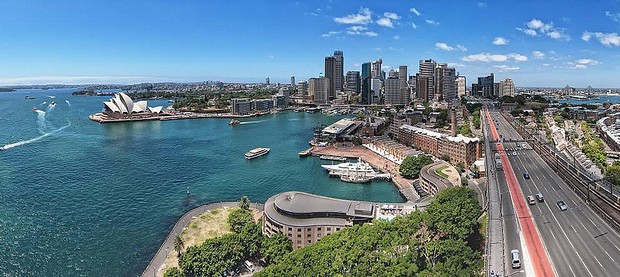 Sydney is the largest and the oldest city in Australia with so many beautiful places that need to be visited! Sydney is a city which will give you a lot of exciting moments.
If you are a family with kids the best way to visit this wonderful city is to rent a car and do an awesome tour around the city. Cars can be rented right at the Sydney airport or from any other rental companies' offices. Starting from the Sydney Airport which is 9 kilometers from the city center the tour around this amazing city will be an unforgettable adventure for your family and kids.
The traffic in the city can be sometimes a little messy and it's always busy. But if you don't drive on Friday lunchtime or Friday afternoon, you will be at the place that you want in 10 – 15 minutes.
Sydney is a city where you can visit many historical objects to get knowledge about the history of this Australian gem.
Enjoy the beautiful nature and views of the national parks and gardens, have fun watching the animals in the Zoo or sea life aquarium, find out more about the Sydney Bridge or Olympic park and many other amazing and unique places!
Featherdale Wildlife Park
One of the best places to visit with kids in Sydney is Featherdale Wildlife Park where parents and kids will have an opportunity to see all wonderful and unique animals of Australia.
Kangaroos are the animals that present Australia and in this wonderful park you can find many of them. Koalas, dingo's, emus, spiders and much more wild animals can be seen in the park and your kids will love the time spent here and pictures that you will make.
The Featherdale Wildlife Park is opened from 9 am to 5 pm, 7 days a week. Also, you can find great gift shop in the park and buy some souvenirs.
The Art Gallery of NSW
After the fun time in this park, your family and kids can visit a place where you will find more information about the art in Sydney.
The place is the Art Gallery of NSW where you can find the largest art collection in Australia. This art gallery is on the east side of the city centre. Here you can find so many beautiful paintings, sculptures, woodcarvings, etc.
Besides Australian art, there are some interesting departments in the gallery where you can see the art of Europe, Asia and America. You will not spend much time in this art gallery, but it is a really great place to visit and find out more about Australian art and culture. The art gallery works from 10 am to 5 pm.
The Luna Park
If your kids feel bored after visiting the art Gallery of NSW, next destination should be Luna Park. Luna Park is the place every kid loves. Parents can also have fun in Luna Park and it's worth a visit while you are in Sydney.
It's a really entertaining colorful place where you will feel the real magic. The Wild Mouse, Space shuttle, Magical castle, Tango train, Mirror maze, The Wonky walk and much more are the best places for family and kids. Your kids will love this place and they will not want to leave it soon.
Sea Life Aquarium
Another perfect place for family and kids is the Sea Life Aquarium. This place is one of the biggest attractions in Sydney and it's perfect for those who want to discover the sea world.
Sea Life Aquarium offers you many tours to discover unique fish ofvarious beautiful colors and strange forms. One of the best attractions in this place is visiting the aquarium with sharks, which can be also a little scary for the kids.
The Sydney Tower Eye
Besides fun and entertaining part of the city you need to visit the Sydney Tower Eve where you will have the perfect view of this beautiful city. You can see all the golden beaches and also the famous Blue Mountains which are amazing, especially during a sunny day.
The Sydney Tower Eye will give you another perspective of the city and it's a perfect place for taking family pictures. The opening time is from 9 am to 10:30 pm and it has the double height of the Harbour Bridge in Sydney which is another place that you should not miss it in your tour around Sydney!
The Sydney Bridge
The Sydney Bridge is the place that you will never forget! When you climb the bridge you will have the best view of many buildings and monuments in the city. If you want a different adventure, you can climb the Sydney Bridge with a group of 20 people till the top of the bridge.
Parramatta Lakes Reserve
If you want to rest after visiting some high places in Sydney, you can go in Parramatta Lakes Reserve where you can let your kids play and enjoy the space or arrange a nice quite picnic.
Besides that, you can visit some restaurant in the city centre and try good and specific Australian dish. You can try some seafood, that is prepared in Australian way, or you can visit some of many European or Asian restaurants in this city. If your kids don't want to experiment with new dishes, you can always take them to some fast food restaurant.
Also, in your awesome tour you should not forget the Olympic Park, Orbit bar or The Rugby League Museum that will leave you without words.
At the end, you will understand that there is not enough time for visiting everything in this big and wonderful city, which is always a best choice for family and kids!