A Leaf, a Radiator and a Macgyver Moment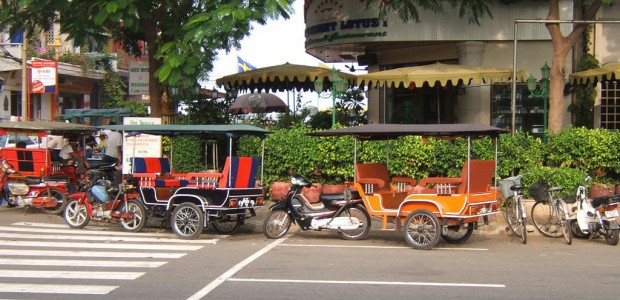 The streets in Cambodia are awful, furious chunks of black-top loaded with potholes that would qualify as valleys in a few nations. Luckily, I had it made setting out from Sihanoukville to Phnom Penh. Or thereabouts I thought.
Cambodian Taxis
Having used two weeks in the unwinding sunny shore town of Sihanoukville, I was getting exhausted thus were the three chaps going with me. It was time to head to the gathered mayham of Phnom Penh and in the long run Angkor Wat. In spite of the fabulous notoriety of Cambodian streets, the manager of our facilities let us know the street to Phnom Penh was smooth as glass. For twenty U.s. dollars, a neighborhood taxi would get every one of the four of us to the city without occurrence.
Around twelve, two Australians, an Englishman and myself packed into a Toyota Camry with our knapsacks and different garbage. Our driver was a decent fellow, grinning always. We did have a correspondence issue since he talked something like two expressions of English and we just talked English. The street, be that as it may, was as smooth as guaranteed and we saluted ourselves on our stroke of luckiness.
For 60 minutes, we traveled through the serene Cambodian farmland. It was hard to envision the turmoil that must have happened when the Khmer Rouge was in force. There truly wasn't much to see past the intermittent town. About half route through the excursion, the absence of any sizeable towns turned into a worry.
In the famous center of no place, our driver pulled over to the side of the street and turned off the auto. Since we couldn't verbally convey, much finger indicating was attempted. Were we lost? Did he need more cash? Was he going on strike? What the blazes was going on?
Inevitably, we remote nitwits could disentangle that the auto was overheating. Keeping in mind that you think us finish imbeciles, I must say that the temperature gage wasn't meeting expectations.
In any case, our driver popped the hood and our smooth excursion reached a broke end. Steam spilled from a half-crawl break by the radiator poo.
Street site aid appeared a risky prospect amidst Cambodia. That is to say, you couldn't generally call your auto insurance agency.
Me: "Hello there. My auto is broken."
Administrator: "OK, we will send somebody out. Where are you?"
Me: "Um, some place amidst Cambodia."
Administrator: "…[hysterical laughter]… Click."
The driver took a gander at us. We took a gander at him. At the same time, we all began snickering. What else would you be able to do? We were amidst no place, the radiator was shot and it was 60 miles or something like that to Phnom Penh.
Thinking back, I can let you know that Cambodian cabbies are a dedicated and inventive gathering. We sat as an afterthought of the street, thinking about the way that we were going to have a considerably more real Cambodian encounter then any of us had arranged. Abstrusely, our driver had gone off into the brush as an afterthought of the street. After a couple of minutes, he came back with a dim green leaf and an enormous grin.
Putting Macgyver to disgrace, he moved ahead to fix the break in the radiator utilizing just the leaf and container of superglue. We all moved over as he connected the superglue to the bubbling hot radiator, however nothing went up in flares. In the wake of taking into consideration a suitable measure of time for drying/asking, everything we needed was water.
Despite the fact that honestly not an auto master, I do know putting chilly water into the radiator of an overheating motor is a terrible thought. Macgyver, blunder… our driver, didn't flutter an eyelash regardless of our far reaching arm waving. With a huge grin, the water went into the radiator as we viewed with sickening apprehension. The main inquiry was what would happen in the first place, the leaf patch blasting or the motor seizing up?
That being said, you can figure how it turned out. Not just did we make it to Phnom Penh, we later took in the radiator had two other leaf fixes on the lowest part. The street had been smooth, yet my nerves were still shot. In any event I had adequate ammo to ridicule Macgyver fans.